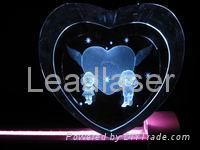 Welcome to visit our website!

My dear friend, this is Michelle from Wuhan Leadlaser Co.,Ltd, nice to make friends with you, you will never miss our warm smile : )

Our advanced laser subsurface engraving machines are used to engrave 2D and 3D personalized crystals as a gift or decoration. They are highly applied in wedding photo studios, gift shops and commercial promotion awards.

Our high speed glass laser subsurface engraving machines are used to engrave 2D and 3D images into glass as an ornament without any touch. They are highly applied in fashionable home decoration (Glass wall, glass furniture etc), advertising (Signboard, glass show window, advertising lamp box etc), wedding photo and light decoration etc. When engraved pattern glow in the lamplight. The engraved images change their colors together with the change of colored light. They are connect fully, without depressive feeling. My dear friend, the maximum engraving range run up to 1500mm*1000mm*80mm and the minimum glass thickness is 1 mm.

With our advanced 2D-3D software, the common 2D images can be converted to 3D within minutes per person. It will be more active and no limit of time, space, location, distance like 3D camera any more.

Moreover, there are more than 2000 3D images in our machine, such as white house, dragon, rose etc. 3D cameras and blank crystals are also available too.

We supply 5-7 days free training, every product gains CE certificate and carries warranty for one year and lifelong maintenance (24 hours technique support after sale service.)
Our aim is "Delivery is punctual, the mass guarantee, small profits and quick returns". To acquaint you with this idea, our latest catalogue and samples will be sent to you upon received your enquiry with much interest.
Best regards
Yours faithfully,
Michelle Sales Manager
Wuhan Lead Laser Co., Ltd
Tel: 0086-27-87531790-604
Fax: 0086-27-87531579
Mob: 0086-15871768028 (It is available 24h everyday)
Email/MSN: [email protected] Skype: leadlaser4
Alternative Web: www.leadlaser.com
Address: No. 5-2-4098, Guandong Technological & Industrial Park, Optics Valley of China , Wuhan , China (430074)